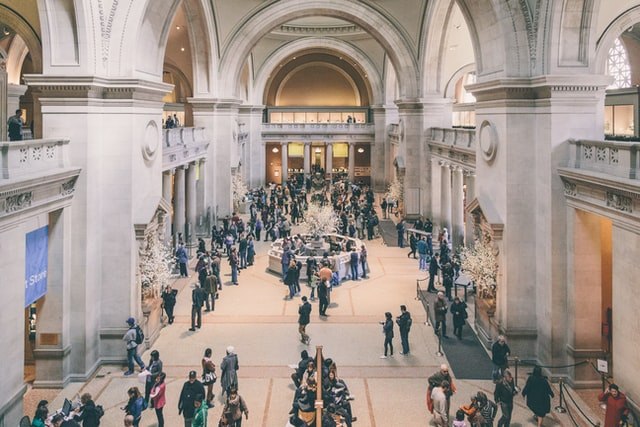 The Met Virtual Tour | New York
View the Met virtual tour here
New York City's Metropolitan Museum of Art  or simply The Met, is an interactive museum and has a wide range of cultural heritage to show. Explore the Met with this virtual tour.
For anyone to see and admire, the Metropolitan Museum of Art displays over 5,000 years of art from across the globe. Two famous New York City landmarks, the Met Fifth Avenue and the Met Cloisters, are host to the Museum. But even if you cannot  visit physically you can engage  digitally with the Met!    
The Met has always aspired to be more than a treasury of unique and exquisite artefacts since its establishment in 1870. Art comes alive every day in the galleries of the Museum and in its exhibits and programs. It exposes fresh concepts and surprising similarities across time and through cultures.
The Met origins – art and culture for the Americans 
The earliest origins of the Metropolitan Museum of Art date back to 1866 in Paris, France. A community of Americans decided to establish a national institution and gallery of art" for the American people to enjoy art and provide them with art education. 
John Jay, the lawyer who suggested the proposal, immediately went on with the project following his return from France to the United States. The Union League Club in New York, under Jay's leadership, pulled together political officials, merchants, musicians, art collectors, and philanthropists.
The Metropolitan Museum of Art was incorporated on April 13, 1870. The Museum acquired its first item, a Roman sarcophagus, on November 20 of the same year. 174 European paintings joined the collection in 1871. Amongst them were piece  by Anthony van Dyck, Nicolas Poussin and Giovanni Battista Tiepolo.
Who would have know then that one day, tourists will be able to take a virtual tour of the Met without having to go to New York?
The permanent collection comprises of Classical and Ancient Egyptian works of art, drawings and sculptures by almost all European artists. And an extensive collection of American and contemporary art. The Met holds vast African, Asian, Oceanian, Byzantine, and Islamic art collections.
The museum houses encyclopaedic specimens of musical instruments, costumes, and accessories from all around the world. In its galleries, many noteworthy interiors are mounted, spanning from 1st-century Rome to contemporary American architecture.
Want to see more virtual tours? Check out The Louvre without going to Paris!