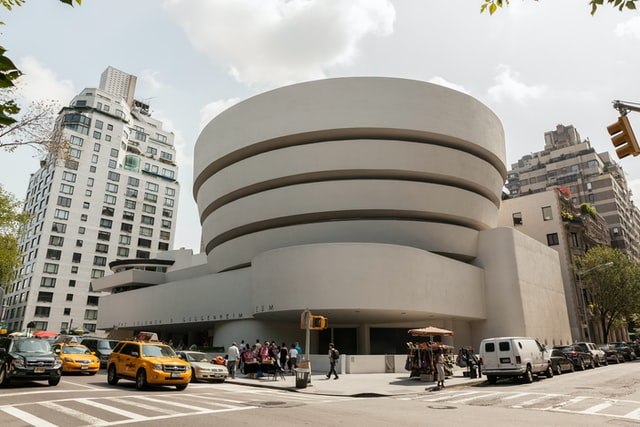 The Guggenheim New York
View The Guggenheim New York virtual tour here
Check out The Guggenheim in New York City virtual tour. You can walk around the museum using Street View via Google Arts and Culture. See the famous staircase and walk the museum's halls to explore the great artworks.
Apart from that, there are also virtual performances, talks, and classes, as well as lesson plans, family-friendly activity ideas and information on virtual group tours. Engage with the Guggenheim Museum's iconic art and architecture no matter where you are.
Critics compared the style of the building to a laundry machine, an upright oatmeal dish, and "an oversized and indigestible hot cross bun,".
However, nowadays it has become one of the most beloved architectural landmarks of New York City.
Crafted by renowned architect Frank Lloyd Wright, the Guggenheim is a concrete masterpiece with a top-heavy spiral structure. It looks quirky, which makes it a perfect to host art works. However, Guggenheim wasn't so keen on the location.
He wrote in a 1949 letter, "I can think of several more desirable places in the world to build this great museum, but we will have to try New York."
A compromise? Wright chose a location next to Central Park, linking the museum to nature, a key aspect of his architectural designs ethos.
The Google Arts and Culture tour is free. However, if you want a more in depth experience for you, your child or a whole class, there is a group tour option. The group virtual tour is about one hour long and will highlight three to five works of art. You can expect open-ended questions and some incorporated activities, based on things such as drawing, to encourage exploration and discovery of art.
Some more of New York – check out The Met virtual tour.